As much as you're willing to provide the best service for your customers, unfortunately, things don't always go your way. There might be loads of obstacles before orders actually reach their destination. To prevent your clients from being disappointed and your business from decreasing revenue we recommend you properly communicate the process of shipping. 
In this article you will find the information about:
the best ways to communicate shipping delays;

tips on writing and designing a shipping delay email;

examples of shipping delay emails.
How to communicate shipping delays
If you're one of the small eCommerce companies, you should definitely work on communicating shipping delays.
Be proactive 
Basically, this is a key to success. Do not wait until an angry customer calls you demanding a refund — contact them first, apologize for the delay, explain the reasons why there are changes in a supply chain, and express gratitude for their patience.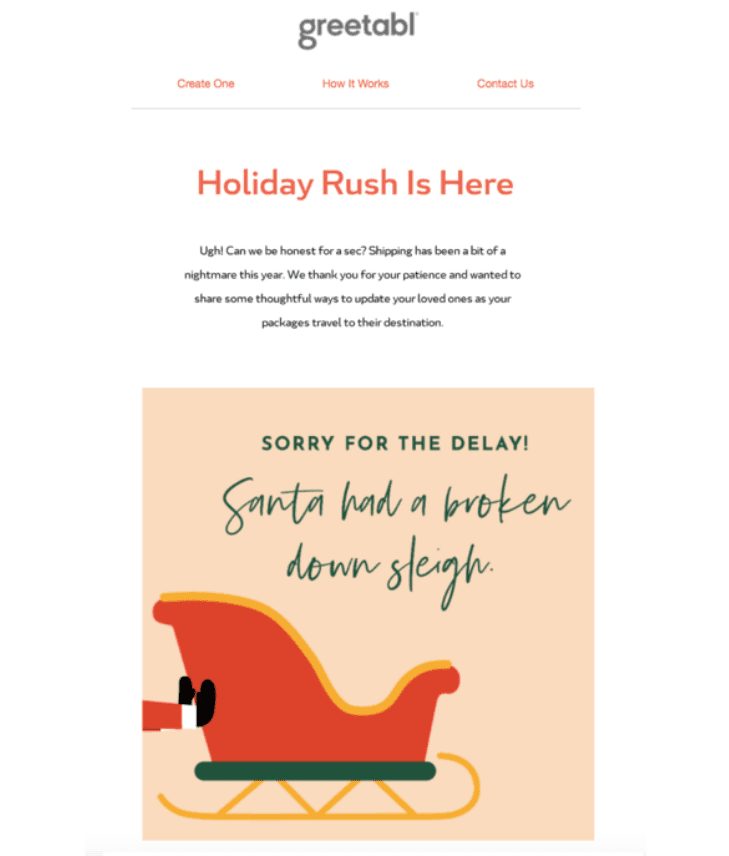 (Source: Email from Greetabl)
In order to avoid losing clients and maintain the level of customer satisfaction no matter what, you have to provide as much detailed information as you possibly can and set clear expectations. Make sure they can easily get the answers to any further questions that might appear during this waiting period.
Add a link to track an order status
When it comes to shipping delays, actually, you have plenty of options to provide. It would be useful to update the order status and attach a link to the respective page so that a customer may check it at any moment and save time without contacting your customer service team.
If you can't provide such a link, you should at least mention the estimated delivery date. Remember that it's always better to set realistic expectations than more positive ones to brighten their post-purchase experience up.
Present a discount
However, you can still make it up to your clients and provide them with a discount for the next order or cover the shipping fee. This way, you will not only increase the level of their loyalty to your brand but also encourage your customers to make future purchases.
In addition, talk to your customer support team and make sure they let your clients know about the shipping procedures beforehand. For instance, if it's a holiday shopping season and there are always some delays due to the high demand, warn your customers about it and allow them to make a decision to buy or not to buy.
Tips on designing a good shipping delay email
The customers will more likely accept the bad news and wait for their delivery if your message and overall communication are friendly and visually attractive. In other words, a good design is sometimes one of the best ways to communicate different problems, like delays. 
Take a look at some tips to create a good shipping delay email:
start with a simple subject line, just make it accurate and legit;

mention all the shipping information transparently, including the reasons for delays, expected delivery terms, and other important details;

don't forget to mention how they can reach out to your customer support team to clarify everything related to the customer's order;

you may attach GIFs with cute cats to brighten up your customer's mood or add some personal touch by adding photos of your support team;

keep your email template as simple as possible. Ideally, it should contain nothing but your apologies, order status update, and ways to contact your support team. 
Note: as an eCommerce brand, you probably know when you should expect the peak season to start and when there will definitely be shipment delays. We recommend you communicate delays by creating a special email template that you may send before the holiday season to inform your customers that there might be some potential delays, especially when it comes to international shipping.
When to send an email about a shipping delay
Ecommerce businesses usually set automated messages in case of any updates regarding the order status. It is always a good idea, especially when it's a holiday rush and you can simply forget to send an email to someone.
We would suggest you send two emails to communicate shipping delays.
Email 1
The first one is to notify about late delivery and set expectations for the package to arrive. You should mention the apology in the subject line and provide the contact information of your support team to stay tuned.
In this email, you may also write about the possibility of providing a refund to a client to make sure their post-purchase experience of communication with your brand is at an appropriate level.
Email 2
After the problem is fixed, you should send a follow-up message to let your client know about the expected delivery time and remind the essential shipment details. Here you may also attach a kind of a bonus, like a discount for the next purchase, to encourage the customers to order something again, even though there were issues that took place.
Note: if you're willing to provide the best service possible, before the order confirmation you may ask about how your customers would like to receive updates in case there is a shipping delay — via email, phone call, or messenger.
Examples of shipping delay emails
We believe that the best way to learn how to do something is to look at how someone else does it and then do better. That's why we provide you with these great examples of shipping delay emails.
1. There's an issue with your Thread shipment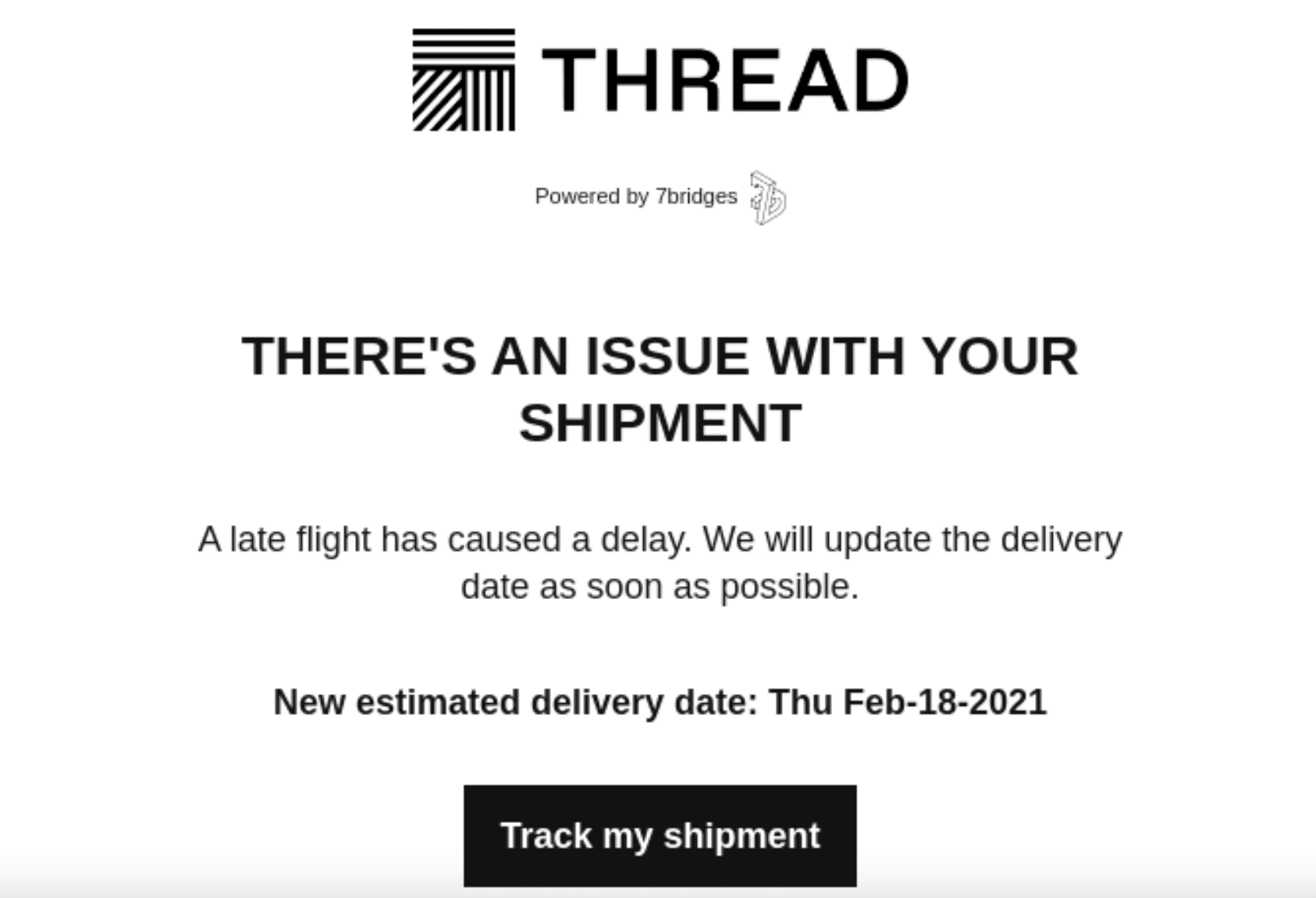 (Source: Email from Thread)
You can see that this email from Thread is extremely simple. There's a very accurate subject line that lets you know about the problem right away.
Then, you immediately see the estimated delivery date and get the opportunity to track the shipment in real time.
At the bottom of an email template, you may find all the details about your order, such as the tracking code, delivery address, and a way to communicate with the support team in case any questions appear. This example is a perfect illustration of how less is more.
2. reMarkable 2 delayed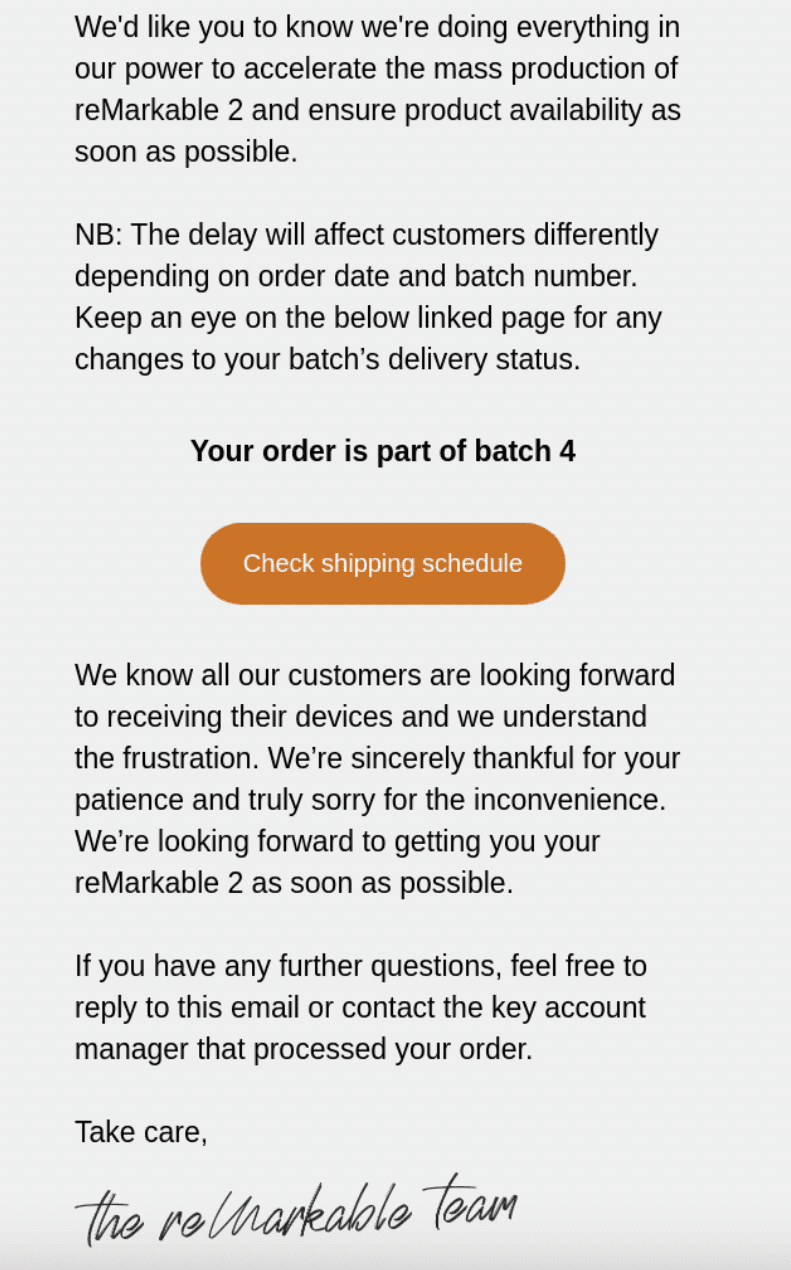 (Source: Email from reMarkable)
In this email template, you can see how a personal touch changes everything.
First of all, the text is written in a very attentive and kind manner which makes you feel like you're a very important and valuable person for the brand (even though you perfectly understand it's just a mailing).
Here is also a link to check the shipping schedule and receive the latest updates on the delivery time. At the bottom of the page, you may find a link to FAQs to clarify something or contact the support department.
Additionally, there is this hand-written signature on behalf of the team which, again, somehow makes this letter special and unique in a way.
3. Your shipment is on its way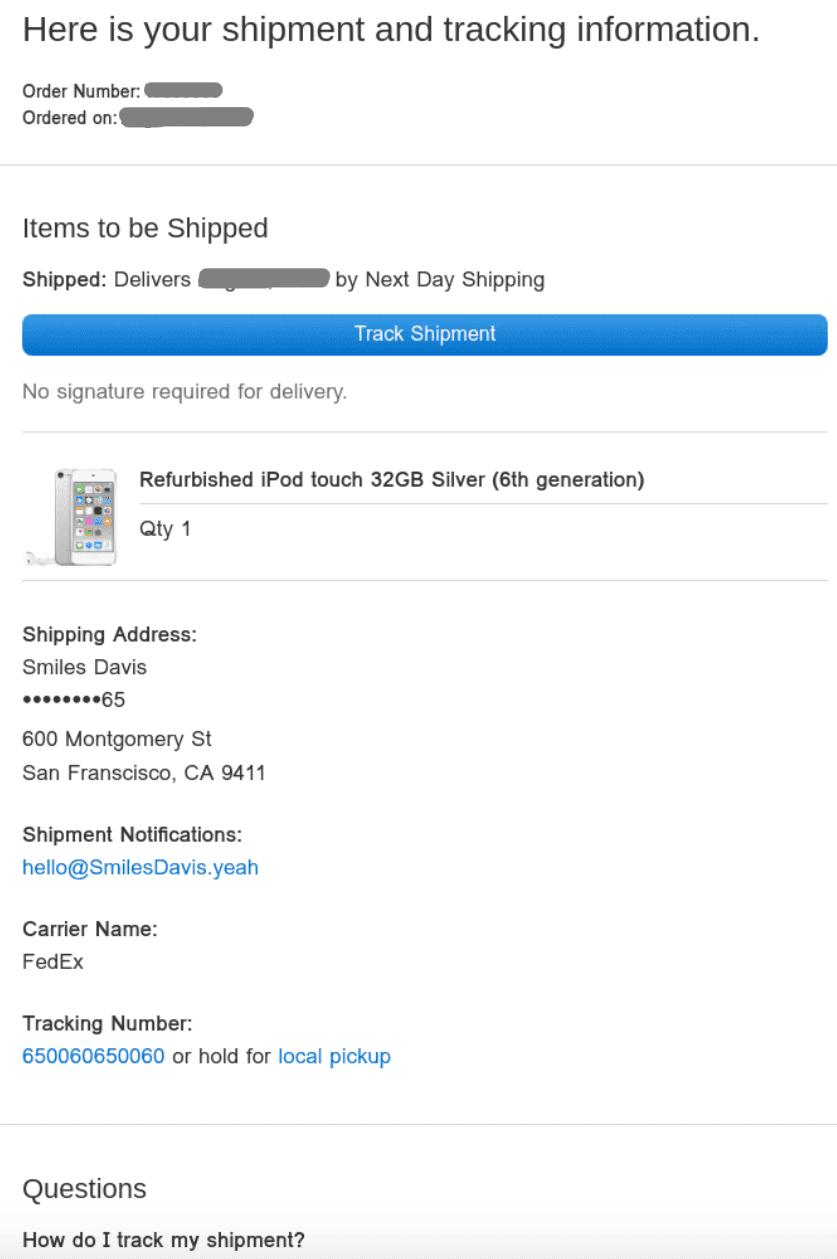 (Source: Really Good Emails)
This email from Apple is super minimalistic, yet it contains all you could possibly need — sounds a lot like Apple, right?
You may use such templates to send a follow-up email after the message that informs a customer about a shipping delay. It is very useful for your clients as they can find all the details related to their order. Don't forget to add a tracking link to such emails to prevent the customers from being nervous.
Another helpful thing in this example is the questions section. You can collect all the FAQs and mention the answer right in the message body. It will save your clients time and show them that you care.
4. Apologize with a discount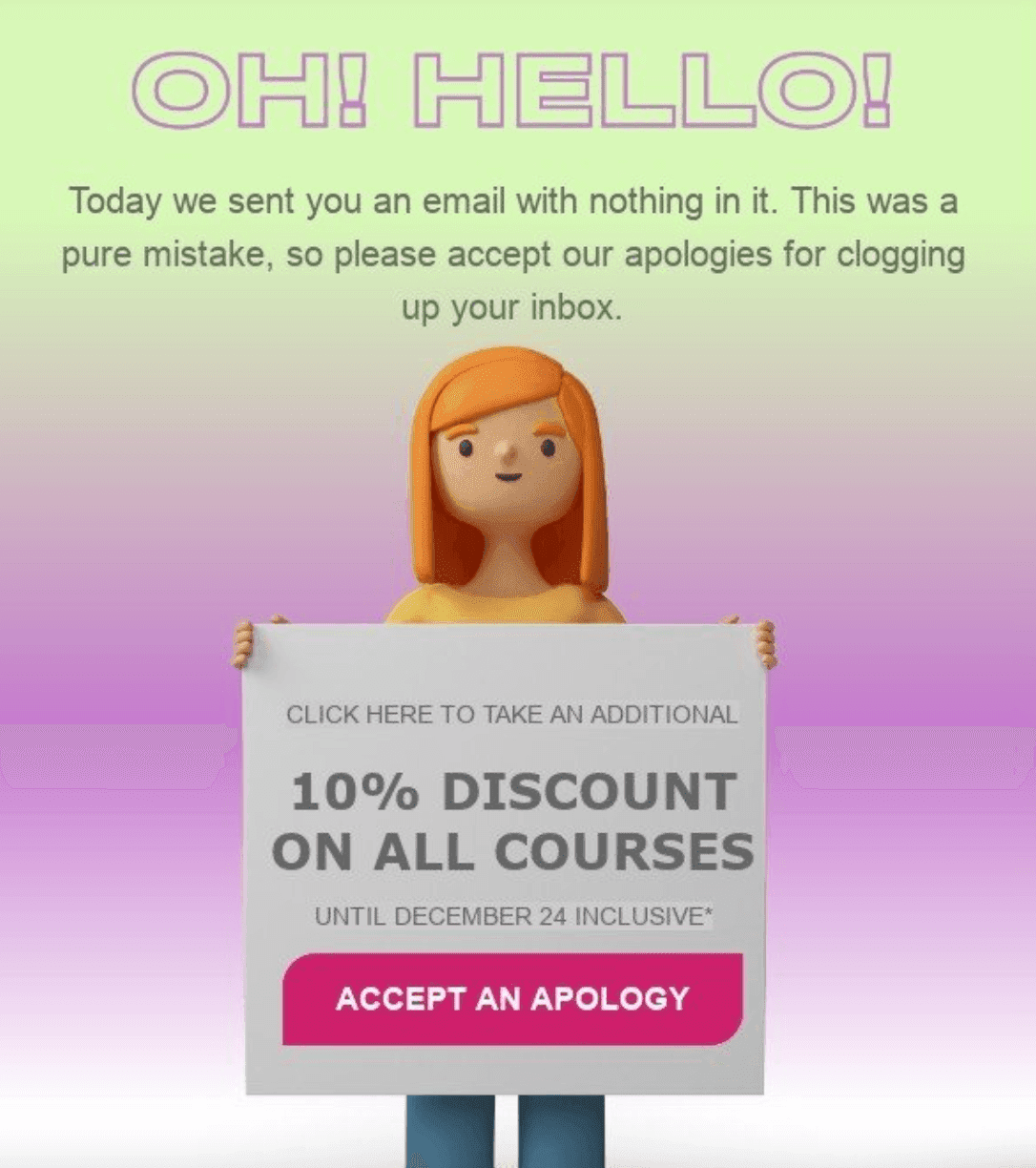 (Source: Stripo template)
Although this apology email template is not related to shipping delays, it still has a pretty attractive design and you may use this idea to provide a discount in an unusual way.
Our favorite thing about this email is that there's nothing extra: a laconic design, a call-to-action button with a catchy "accept an apology" phrase, and useful links for the website and social media.
We really believe in the power of mailing and we have lots of examples from our users about how it works. That's why we encourage you to try communicating shipping delays in a way you've always wanted but never done before!
5. Gift code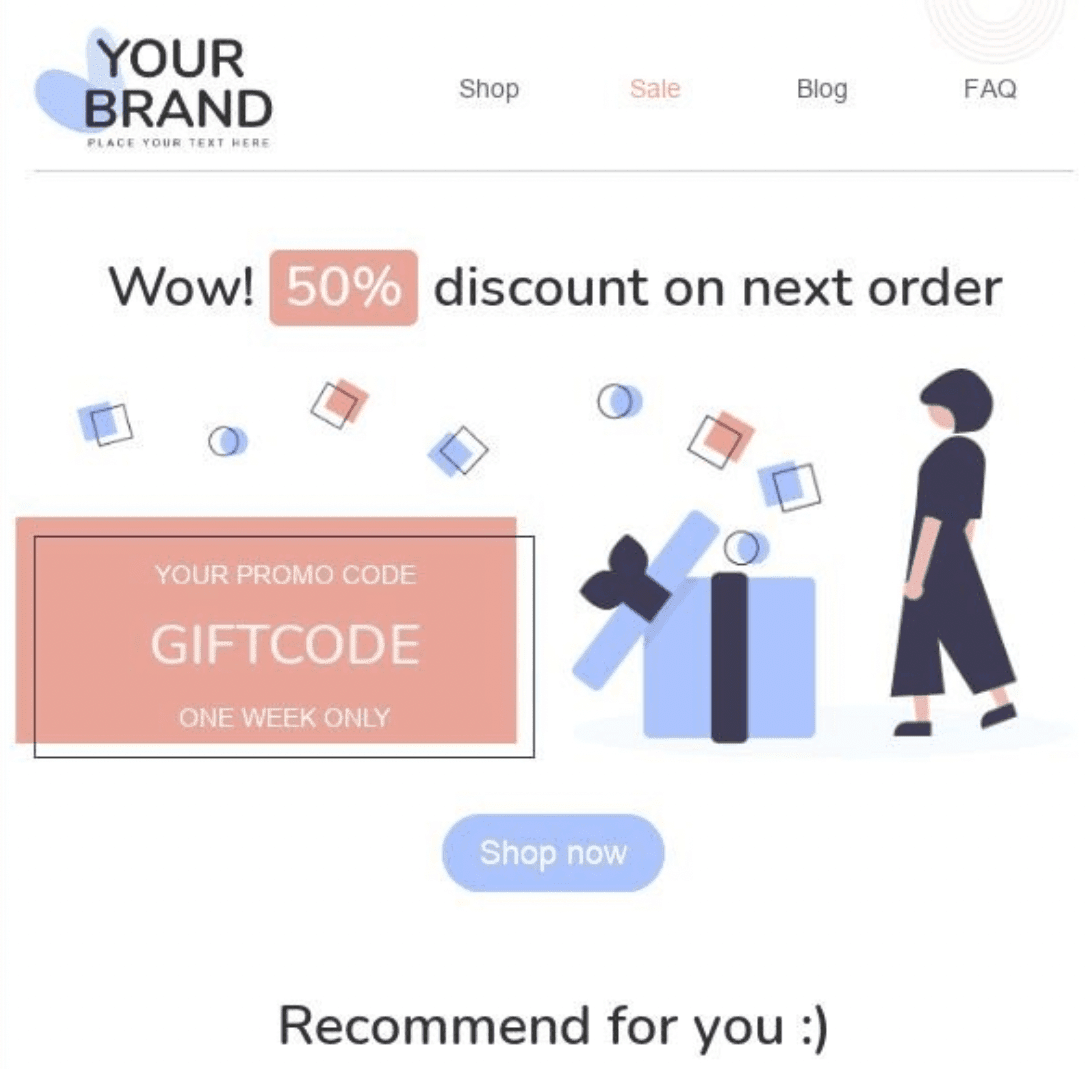 (Source: Stripo template)
This email is quite interesting in many ways. For starters, it breaks into your inbox with a 50% discount which is pretty huge. Then, it informs you that you only have one week to use the promo code.
Right below the banner with the gift code, there's a CTA button to buy something immediately. If you want to discover more recommendations, you can follow the link and find more relevant positions on a special website page.
And the cherry on top — they briefly describe the process of making the order to its delivery, so that you can get a clear understanding of how you should plan your time.
Wrapping up
Although some brands think that they only have to send their order confirmation and then just pray for the package to arrive on time, we strongly believe in communication and do our best to make email marketing easier for you.
Now, feel free to use our library of templates, brainstorm ideas with your team, and create something unique and valuable for your clients. Keep in mind that, in case you have struggled with something, our team members are always there for you to provide their advice and support.
Join Stripo to strengthen your email marketing campaigns with beautiful messages