The email design process is a painstaking task that requires not only time but also a bit of creativity. Designing brand-style templates allow you to create a unique brand image that recipients will immediately recognize when they open your emails. However, picking colors, fonts, and button designs may delay the launch of your email campaign and require additional expenses.
Here at Stripo, we've decided to design a unique tool that will help you quickly create email templates based on your website, and its name is Branded Email Template Generator. Its functionality has just been released and in this article, we will look at what it is capable of and how to use it.
Benefits of Branded Email Template Generator
When we created the functionality of the Branded Email Template Generator, we put in it a solution to the problems of the template design process. Our generator allows you to:
create templates quickly and cheaply;

quickly start an email campaign or supplement an existing one;

create many templates in the same style (colors, fonts, their size, and so on);

get brand-consistent templates in a few clicks into your arsenal.
Using our generator, you will receive:
a pack of templates in the style of your website in less than 2 minutes;

the necessary base for creating future templates;

the option to save generated modules to your personal Module Library.
How does it work?
The pipeline for working with the generator is extremely simple, which will allow you to easily and quickly generate email templates.
Step 1. Enter your website URL address in the respective field
The generator will not be able to create templates for you from nothing. As a result, it needs design data from your main website page. For example, we took the website of the popular pop-up builder Сlaspo. The generator will pull up the main colors of your website, fonts, and logo. Simply paste your website URL and click the Get my Brand Style button.
Step 2. Tune generated email templates
Within seconds after clicking the button, you will receive a series of templates with your brand colors, fonts, and the website logo. After that, you can make small tweaks to the generated templates thanks to the three tabs: Company info, Styles, and Layouts. Let's take a look at each.
Company info
As the name implies, you can change the information about your company that will be displayed on the templates, namely:
brand name;

the URL path to the logo if you want to use an image different from the logo on the website;

contact details in the footer and social networks. The generator pulls in some of the information itself, but you can edit everything at your discretion. Through the drop-down menu of social networks, you can select the ones you need and insert the URLs on your pages in social networks.

Styles
In this section, you can fine-tune colors and fonts, namely:
change the colors of such elements as Header, Footer, colors of buttons, fonts, and Links;

change the main font Headings for templates;

press the Shuffle button to shuffle existing colors and fonts between template elements if necessary.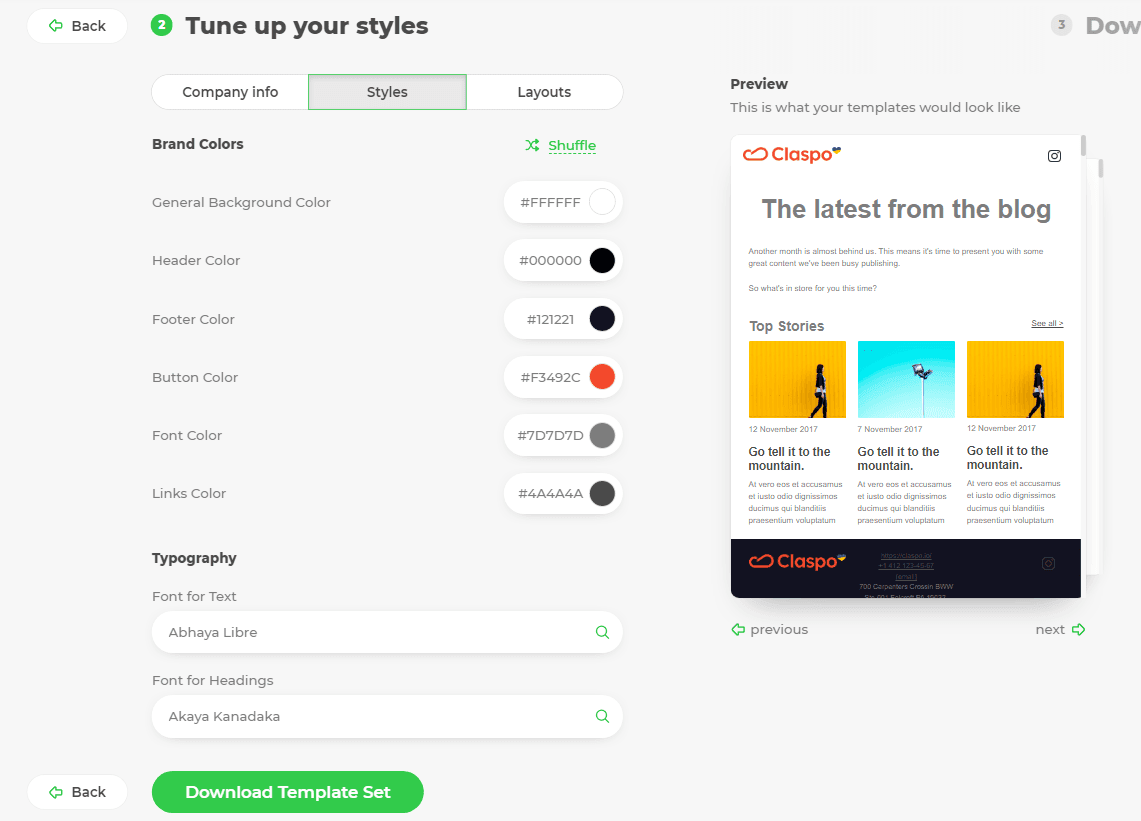 Layouts
The last section is responsible for the arrangement of elements on templates. With the options carousel, you can:
customize header design (applies to all templates) — pick any of the header layouts available;

change the designs of the template with product cards (applies only to the respective template);

customize the template  with blog posts (applies only to the respective template);

customize footer designs (applies to all templates).
All changes you make to the templates are immediately displayed in the Preview menu.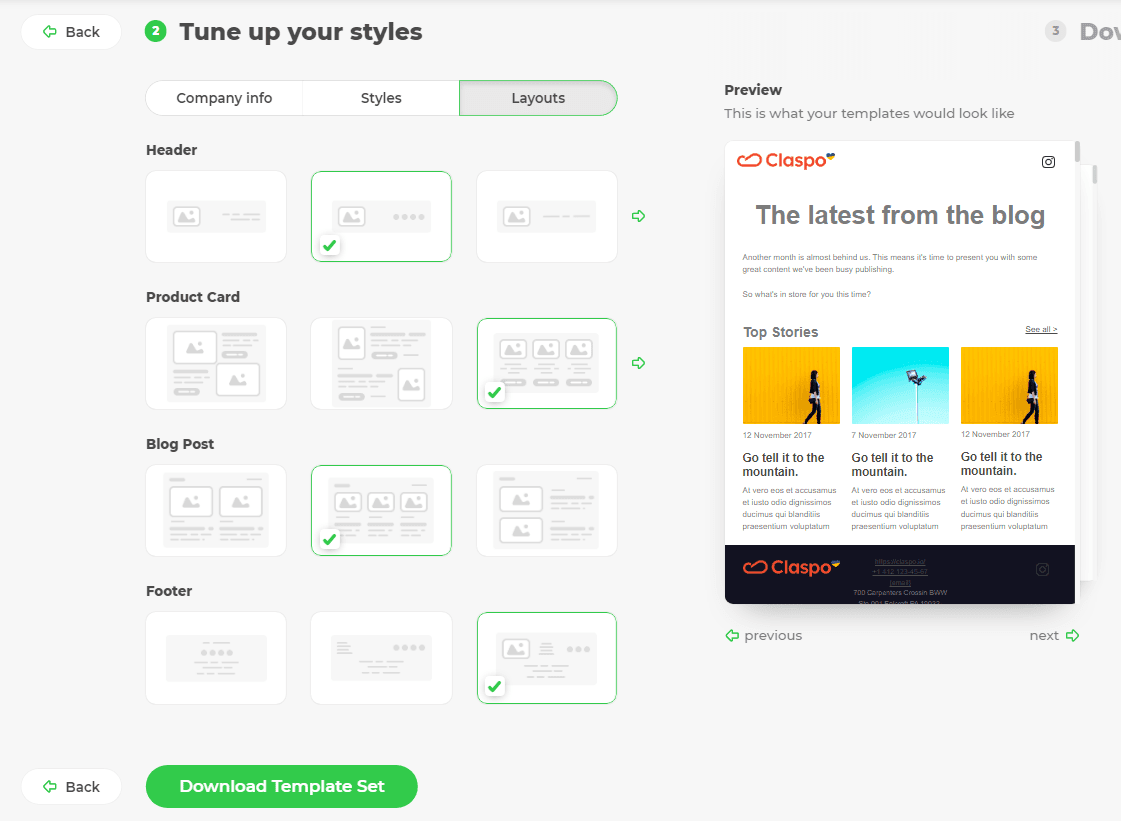 Step 3. Download your templates
After you click the Download Template Set button, you will be taken to a preview page of all generated templates.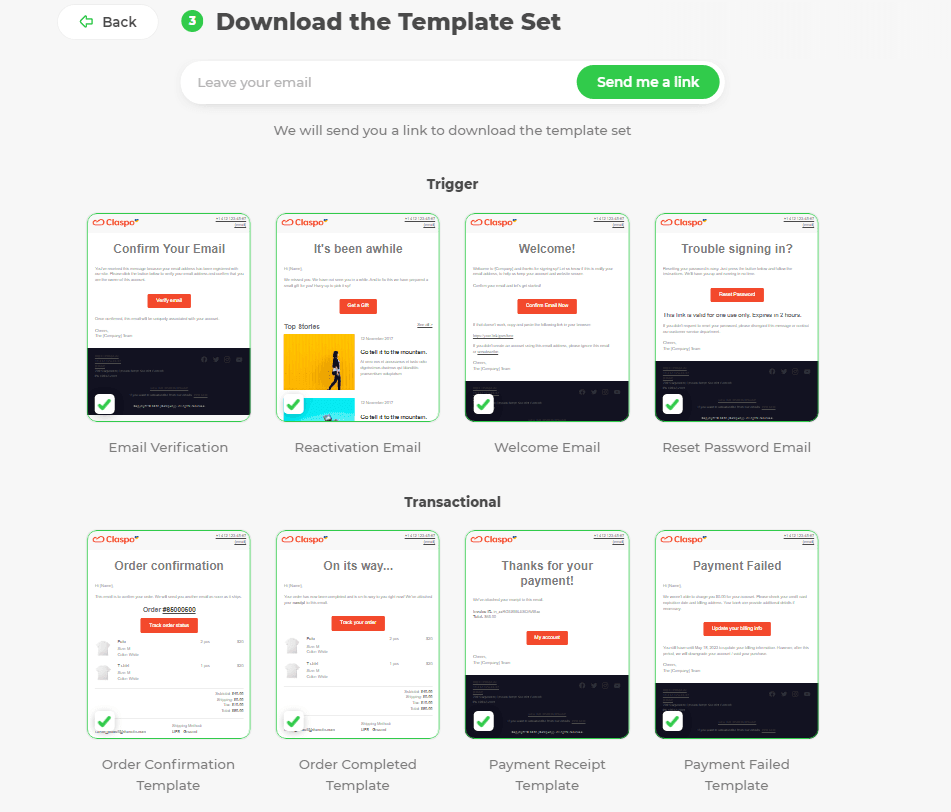 In order to download them, you need to specify your email address, and we will send you an email with a link to download the templates.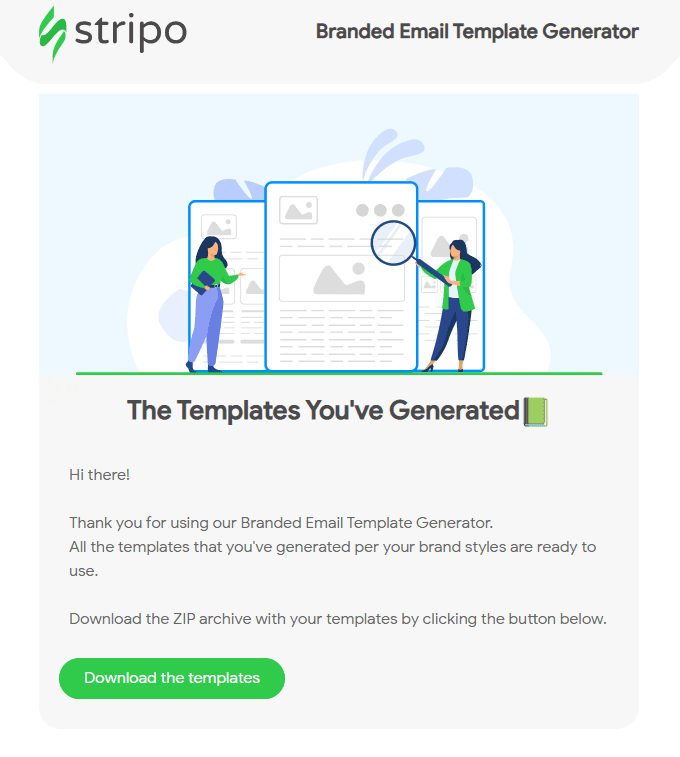 After opening the email, you just need to click the Download the templates button to download the .zip archive with templates on your device.
Step 4. Work with templates in Stripo
It is easy to work with the generated templates. You can:
Editing the generated templates
There are two ways to edit the generated templates in Stripo.
Way 1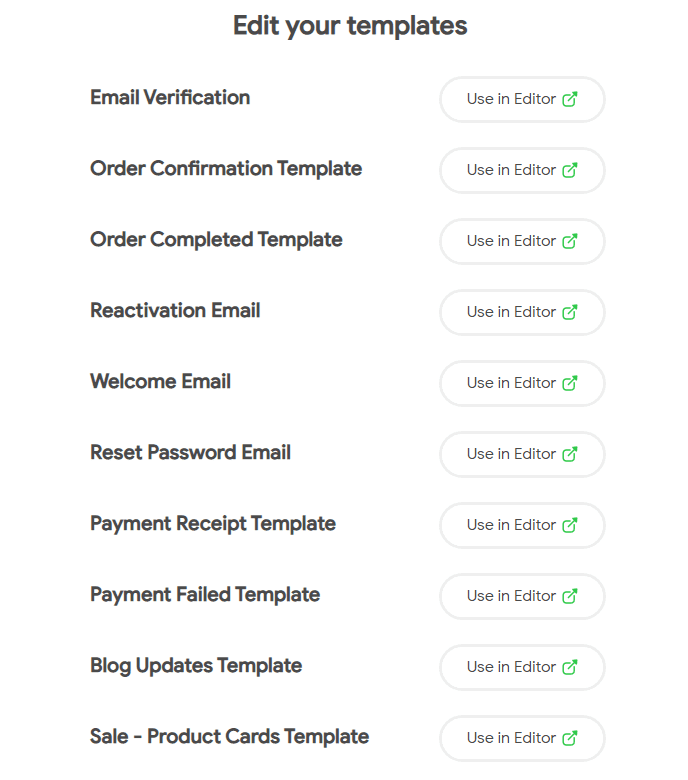 You will be directed to the Stripo editor by clicking on them, where you can immediately edit the templates as you please — Drag-n-Drop and HTML code editors. All editor functionality is available, and the templates do not require any additional settings in the editor.
Way 2
You need to unpack the downloaded .zip archive. You will receive a folder with .html template files. After that, you need:
open the template file with Notepad or any other text editor;

copy all code to clipboard;

open in the Stripo editor, and in the Basic templates section, select My HTML template;

paste the copied code into the code editor field;

and it's done.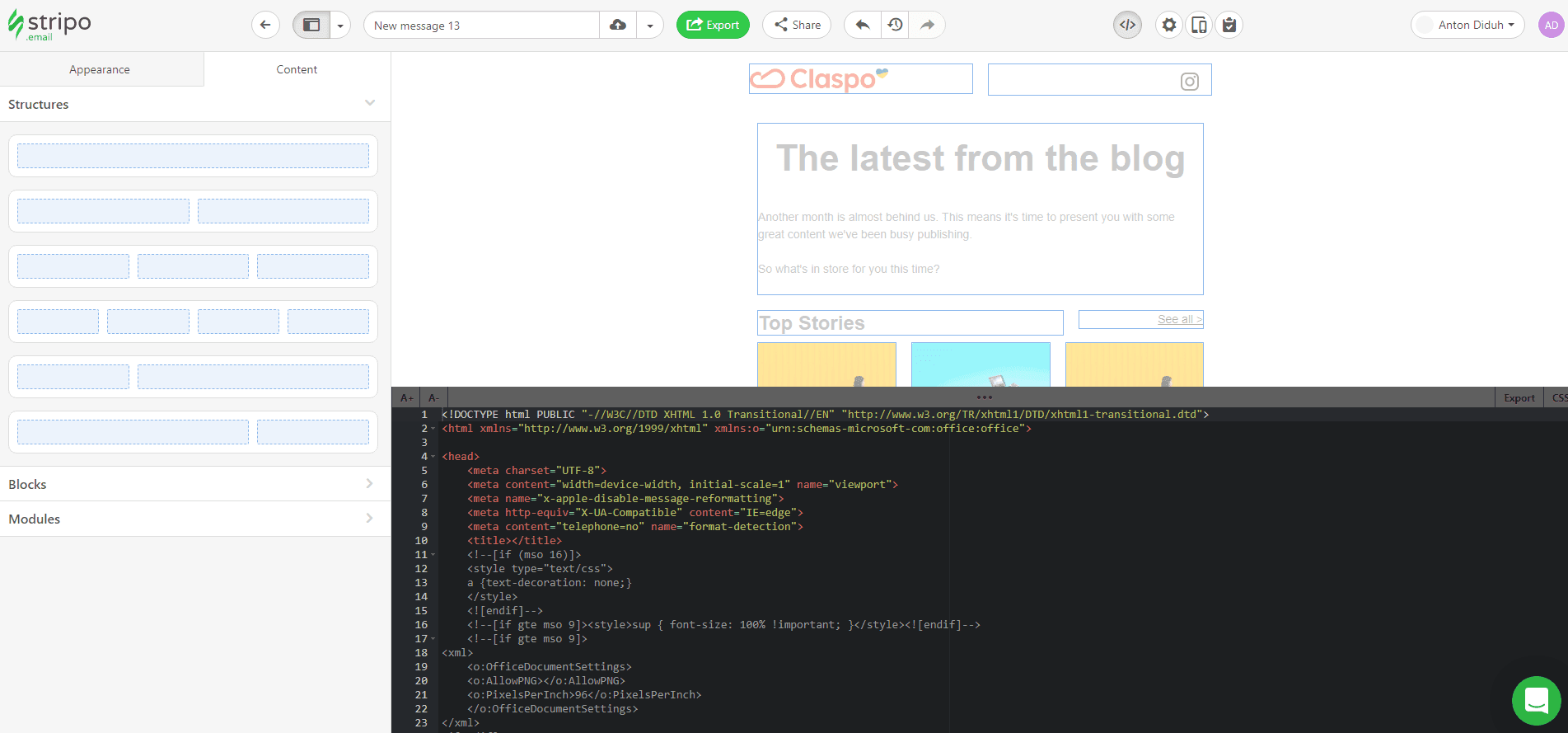 Templates are easy to edit. You can add new elements using a drag-and-drop editor and work with generated templates like with any other in Stripo. If you are tech-savvy enough, all of our templates can be edited through our built-in code editor. 
Saving email elements as Modules
All generated template structures, rows, stripes, and containers can be saved as modules and will then appear in your Modules section (My modules tab). You can use these modules in other emails by simply dragging them to the templates.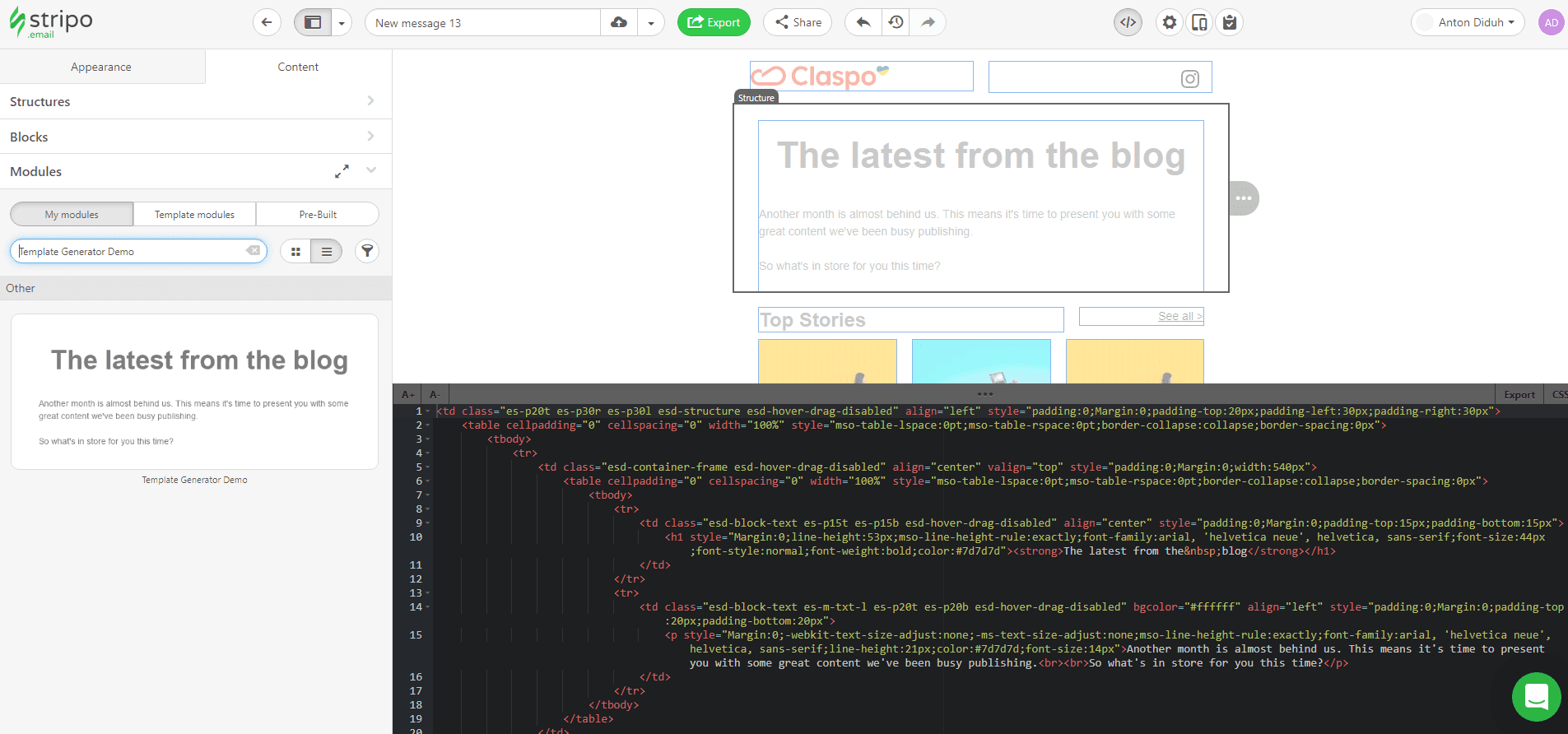 Step 5. Build Brand Guidelines Kit based on these templates for your future campaigns
In addition, the generated templates can be used to create Brand Guidelines kits, which allow you to streamline the creation of brand-consistent emails for your campaigns. These kits include all desktop and mobile email styles, allowing you to keep all the necessary design elements and settings in one convenient form.
Final words
The release of Branded Email Template Generator is a real milestone for the Stripo team, and we hope you find it useful in your email marketing pipelines. Thanks to this generator, you can:
quickly create an impressive set of templates;

start mailing in a few clicks thanks to convenient export;

stick to brand design in emails;

create your own Brand Guidelines kit based on the generated templates.
Generate your own email templates in a few clicks with Branded Email Template Generator from Stripo